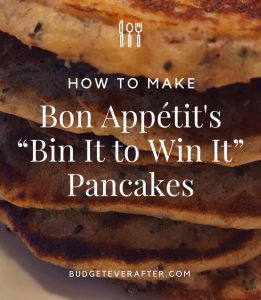 [ultimate-recipe-jump]   [ultimate-recipe-print]
My toddler loves pancakes and all things sugar. I love indulging him in whatever he'll eat. So how do I find a compromise and feed him healthier food that he'll eat?
Enter "Bon Appétit" (BA) Magazine's video for deceptively healthy "Bin It to Win It" pancakes. 
In the video, BA's Food Director, Carla Lalli Music, takes viewers on a shopping trip down a supermarket's bulk bin aisle and shows us how easy and cheap it can be to shop for healthy ingredients – in this case, for her "deceptively healthy" pancakes that her son loves. Unfortunately, as of this writing, there is no written recipe that accompanies the video – until now. I've compiled the ingredients as best I could and tested the recipe below – and it's yummy.
The surprise (non-traditional) ingredients for the pancakes include flaxseed (cracked – she explains why in the video but we'll answer why the flaxseed needs to be cracked in a little bit), chia seeds, whole wheat flour, oats and coconut oil.
I was skeptical at first but after trying the recipe out – with some modifications in the notes, I'm a believer – and guess what, you know it's a good recipe when my 2-year-old asks for more, over and over again. Mom win!
Note: If you're pregnant or nursing, you shouldn't use flaxseed. According to Lilian Thompson, PhD, an internationally known flaxseed researcher from the University of Toronto:
"Our own animal studies showed that flaxseed exposure during these stages may be protective against breast cancer in the offspring. But a study of another investigator showed the opposite effect."
Therefore, until further research is done, it's better not to use flaxseed if you're breastfeeding or pregnant.
You'll love this healthy pancakes recipe because:
It's fast, easy and forgiving (you can easily make adjustments and substitutions along the way and still come out with a great pancake – for instance, I replaced some of the coconut oil the recipe calls for with Kerrygold Pure Irish Butter and came out with fantastic results. I've also used ghee in place of the coconut oil for an even better pancake – those recipes to come. I've also used ground flax seed and just added some additional milk, the combinations are endless and results are always delicious and guilt-free).
It's full of healthy ingredients that you'll feel good about serving yourself and your family.
You can make ahead and store the dry ingredients for up to a week for your own ready-to-go pancakes mix. Just add buttermilk and you'll have hot pancakes in five minutes.
This is a healthy kid-friendly and kid-approved pancakes recipe.
The "Bin It to Win It" pancakes are full of healthy superfood ingredients like:
Flaxseed, which is high in fiber, full of alpha-linolenic acid (a heart-healthy omega-3 fatty acid that may help reduce your risk of heart disease, cancer and diabetes and also combats arthritis and inflammatory bowel disease), protein and lignans (which have both plant estrogen and antioxidant qualities. Flaxseed contains 75 to 800 times more lignans than other plant foods.)
Whole flaxseeds can be kept in a container on the counter for one year or longer and ground as you need them (it's best to grind them shortly before using them for the best health benefits). Whole flaxseeds keep their nutrients because the outside of a flax seed is very hard to crack, but that hard outside that protects the health benefits of flaxseeds is also what prevents your body from digesting and getting the nutrients if you eat it whole. Therefore, to get the health benefits and nutrients from flaxseeds, you need to grind (or use) ground flaxseeds so your body can absorb all the goodness. You can grind whole flaxseeds with a mortar and pestle, or give them a quick 15-second grind in a blender, coffee grinder, or food processor.
I use ground flaxseeds just because it's easy and I'm lazy. I store my opened bag of flaxseed in a ziploc bag in the refrigerator for up to 3 months.
Chia seeds, which is high in fiber, has a high content of heart-healthy omega-3 fatty acids, high in protein and excellent for low carb diets, since an ounce of chia seeds contains approximately 12 grams of carbohydrates, 11 of which is fiber, making it only 1 net carb (for those of us on keto or low carb diets) per ounce. Best of all, chia seeds absorb liquid and expand, making you feel fuller for longer.
Whole wheat flour, which is better for you than all-purpose flour because it contains all of the parts of the original wheat kernel – bran, germ, and endosperm – that provides healthy benefits to help your body from absorbing "bad" cholesterol and may also lower triglycerides, both of which are major contributors to heart disease. In refined grains, the bran and germ (and health benefits) are stripped away.
Whole wheat flour from whole grains also contains fiber and Resistant Starch, which is a carbohydrate that acts more like a fiber. It's not easily digested, so it makes you feel fuller, longer, and has a medium glycemic load, which means it does not cause an immediate sugar spike, making it a better for you carb – still not the best, but better.
Oats or oatmeal, is a whole grain food and provides fiber, lowers blood sugar levels and reduces the risk of heart disease. Oats also contain many powerful antioxidants, including avenanthramides. These compounds may help reduce blood pressure and provide other benefits. Oatmeal is also a good source of Resistant Starch.
Coconut oil, which contains healthy fats, prevents heart disease and high blood pressure and boosts the immune system.
Okay, now that we've covered what makes this recipe so great, let's get to the kid-friendly, healthier pancakes recipe.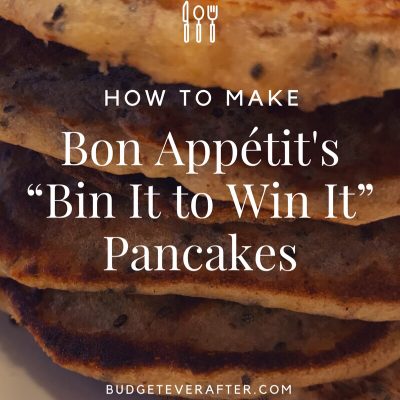 Bon Appétit Magazine's "Bin It To Win It" Pancake Recipe
This recipe from Bon Appétit's "Bin It to Win It" episode for deceptively healthy pancakes combines heart-healthy ingredients like flaxseed, chia seeds, whole wheat flour, oats and coconut oil to make guilt-free and toddler-approved pancakes.
Ingredients
Prepare
1/3

cup

coconut oil

Plus more to grease pan

1/3

cup

oats

Oatmeal

1 1/2

cup

buttermilk

Don't have buttermilk? Use 1.5 cups milk + 4 tablespoons white vinegar
Combine in a large bowl
1

cup

flour

1/2

cup

whole wheat flour

1 1/2

tsp

baking powder

1/2

tsp

baking soda

1/2

tsp

salt

1

TBSP

sugar

Or less depending on how sweet you like it

1/4

cup

flaxseed (Ground or Cracked)

1/4

cup

chia Seed
Instructions
Prepare
Measure and melt the coconut oil. Set aside.

Soak the oats in 1.5 cups of buttermilk.
Mix the Dry Ingredients in a Large Bowl
Combine and mix together the flour, whole wheat flour, baking powder, baking soda, salt, sugar, flaxseed and chia seed.
Mix the Wet Ingredients in a Medium Bowl
Lightly whisk together the eggs, buttermilk and oats mixture, and the coconut oil.
Combine and Cook
Add the wet ingredients to the dry ingredients and mix together. Do not overmix - some lumps are okay.

Heat a skillet on medium heat and brush the pan with coconut oil.

Make a test sample pancake: pour a half dollar size amount of batter onto the hot pan and cook until you see bubbles forming on top, then flip it to the other side to finish cooking. You'll know it's done when it's light brown.

Sample the pancake and make adjustments if needed. Once you're satisfied with the taste, continue making the rest of the pancakes.
Notes
Substitute grass-fed butter or ghee for the coconut oil
If you don't have buttermilk, you can use 1.5 cups milk + 4 tablespoons white vinegar.
Test the batter and make adjustments by making small tester pancakes before making/finishing the batch.
Nutrition
Calories:
504
kcal
Carbohydrates:
64
g
Protein:
17
g
Fat:
22
g
Saturated Fat:
12
g
Polyunsaturated Fat:
3
g
Monounsaturated Fat:
2
g
Cholesterol:
61
mg
Sodium:
355
mg
Potassium:
264
mg
Fiber:
11
g
Sugar:
6
g